Welcome to "MAYBERRY"
Mount Airy is the birthplace of Andy Griffith and we have lots of "MAYBERRY" souvenirs to choose from.
Bryson Inn is pledged to providing you with a wonderful travel experience. Thats because we make traveling a little easier with friendly service and comfortable
accommodations. When you are ready for your next travel adventure, remember Bryson Inn is your ticket to a happy, memorable trip.
Our gasoline pumps are located for your convenience beside the travel store. We offer unleaded, mid-grade and premium BP gasoline. Eight pumps are equipped with card readers under a well lighted canopy.
Flying J Fuel Stop
We offer a full line of heavy duty and automotive parts and accessories, NEW and USED tires, brake accessories and electrical components.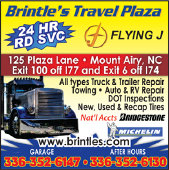 Brintle's Garage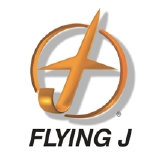 We are proud to be a Flying J dealer. You will receive you points for fuel just like at one of the corporate locations. You can redeem your shower points as well as use your points towards Travel Store or Restaurant purchases.
Conveniently located at Exit 100 off I77
and Exit 6 off I74
BRINTLE'S HOMESTYLE
RESTAURANT